Your recruitment process at our headquarter
Communicate what is important - one of our most important corporate values, which we live by every day.
To ensure that you are well prepared for your recruitment and onboarding process, you will find all the important information for you here at a glance: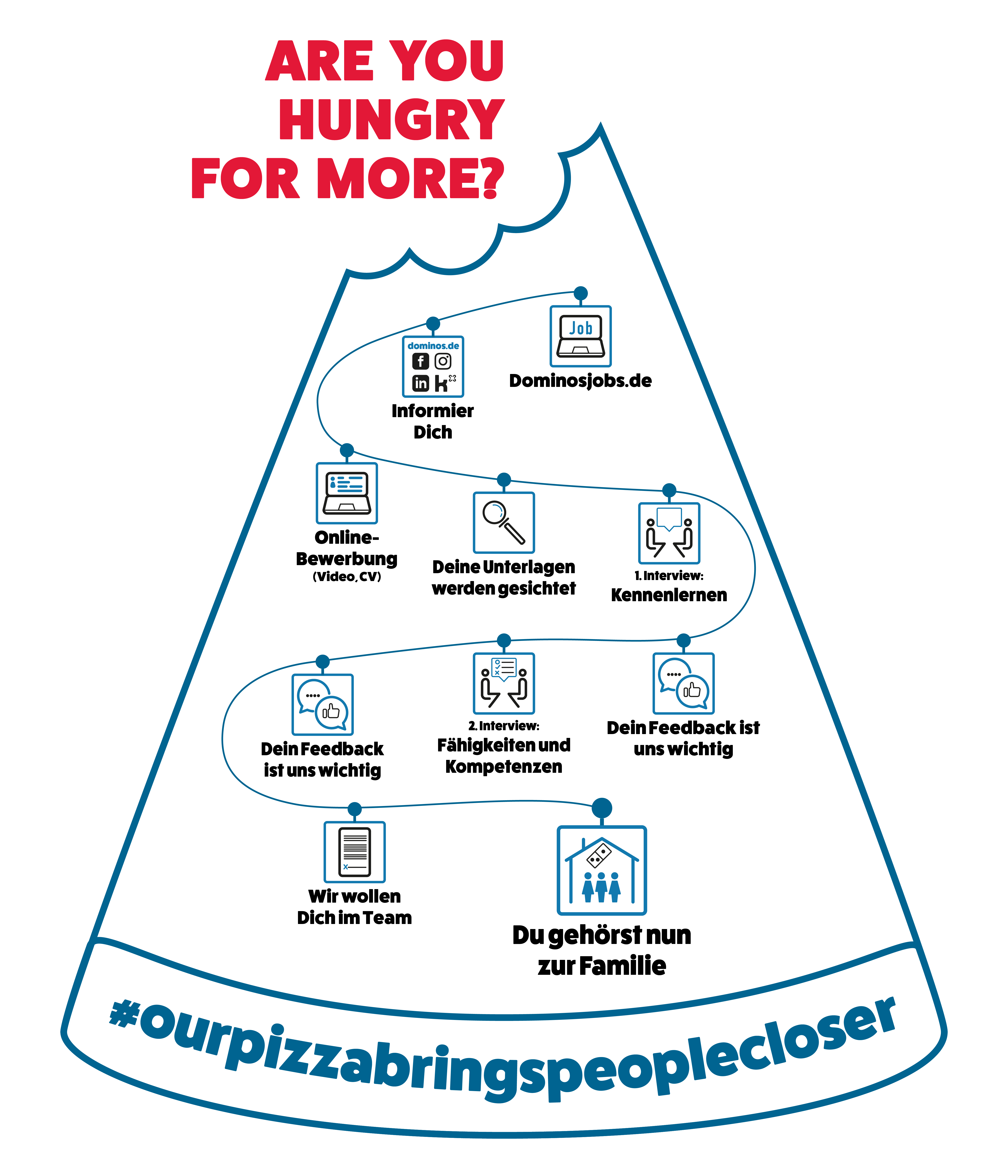 Recruitment process
After we have received your application documents, they will be reviewed by the respective department. In a first interview, we finally get to know each other personally. This is your chance to show us what you can do. If we were able to convince you, we will discuss the final conditions in a second interview.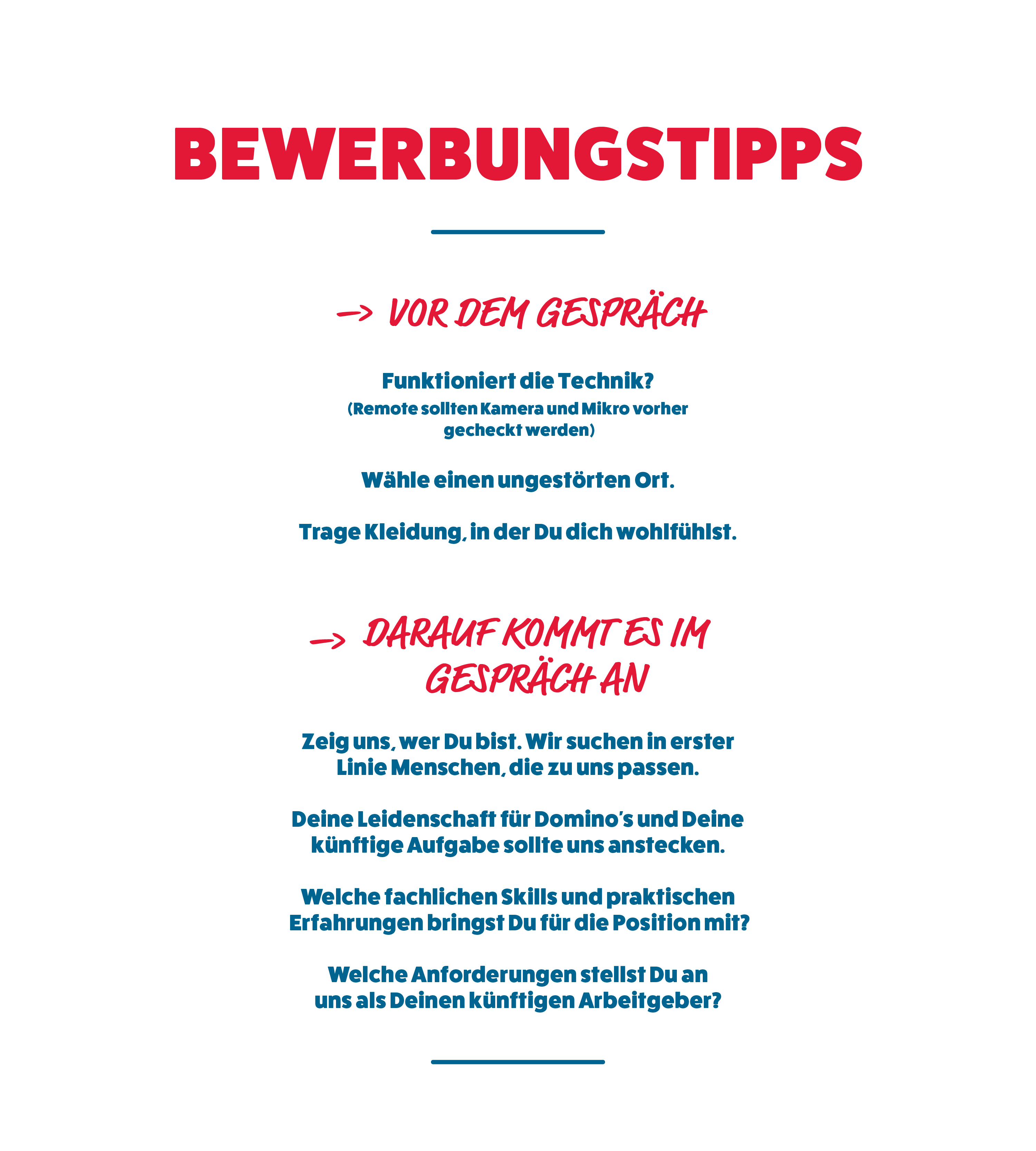 Welcome to the Team
We are already looking forward to meeting you! Your team has already contacted you with an invitation to your first day at work. As a rule, you will start a little later on your first working day and get to know your new colleagues.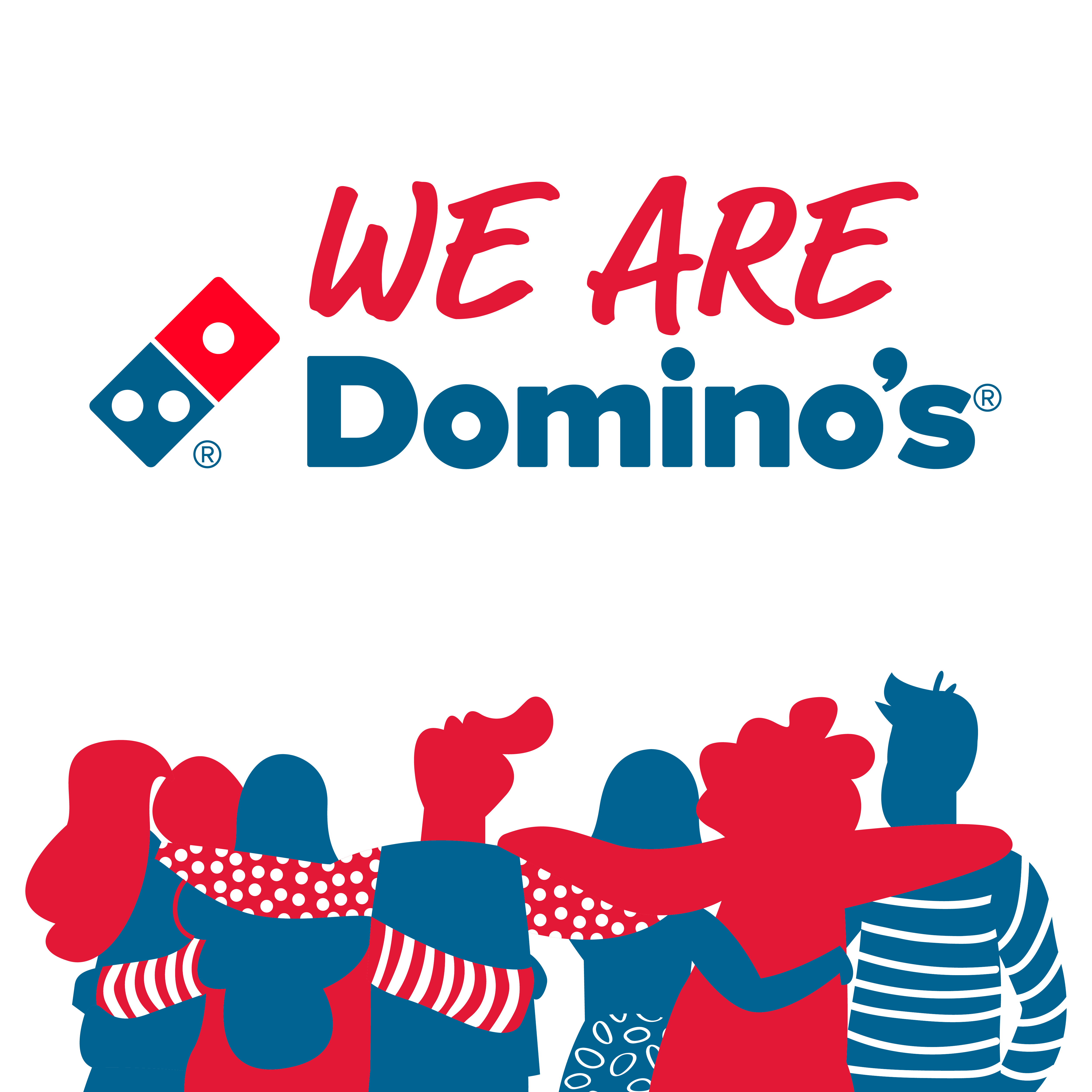 Your onboarding begins
Over the next few weeks, you will be trained by your team. In order for you to really get to know the Domino's family, you will receive several days of onboarding in a Domino's store: directly at the pizza oven, you will get to know the work processes and see how our ideas are implemented.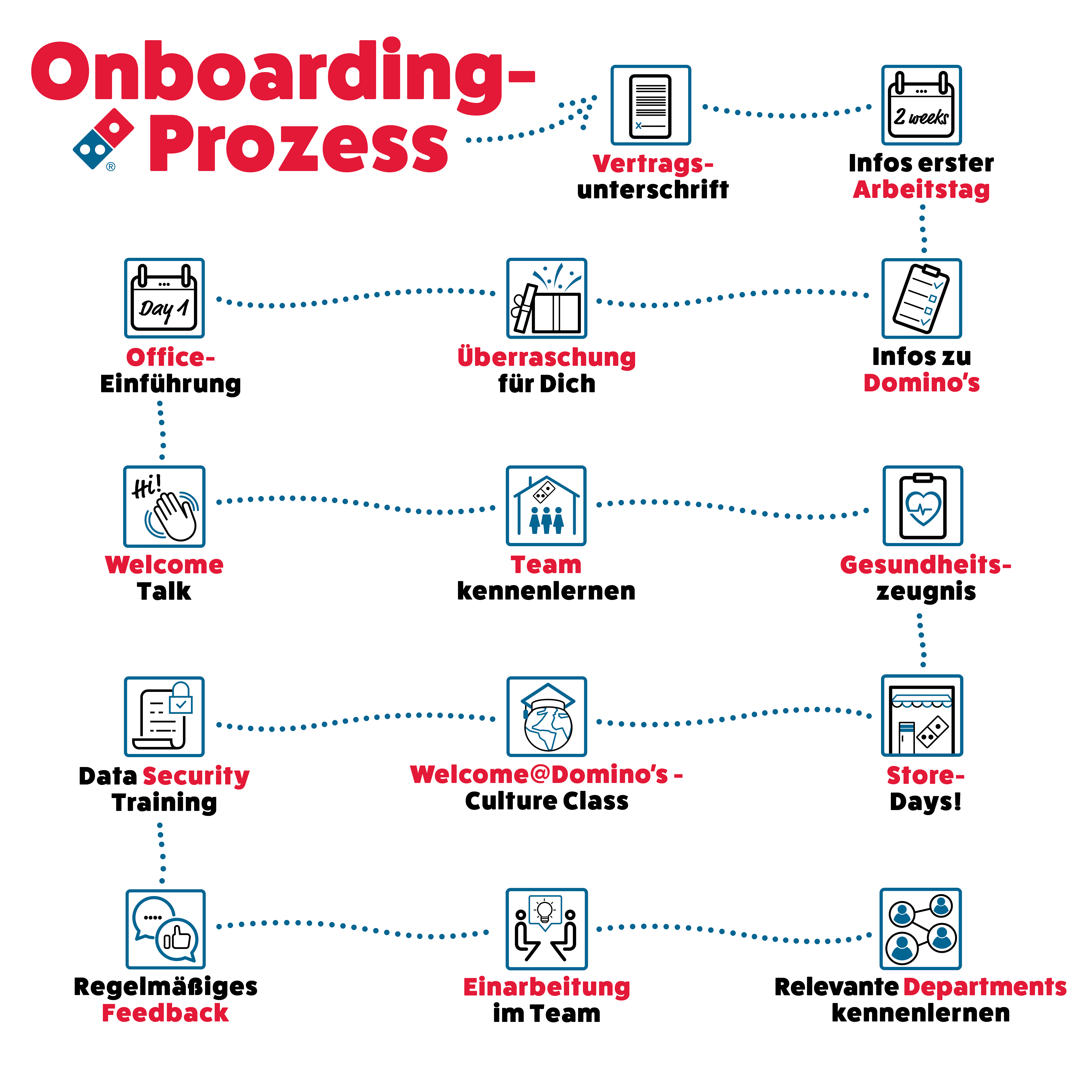 Welcome! You are a Dominoid!
We're sure you've got pizza sauce running through your veins by now.

Your contact person in recruiting
Sara found her way to us in 2020 as a working student. At that time, she was in the final stages of her studies in business psychology and already had some experience and professional knowledge under her belt.
Soon Sara was an integral part of our HR department and has become a permanent part of our team.
As HR Clerk she works together with the HR team on personnel administration and support. However, Sara's main task is as a contact person in the area of recruiting. Here she not only accompanies you through your entire hiring process, but also designs exciting projects for our employees and applicants.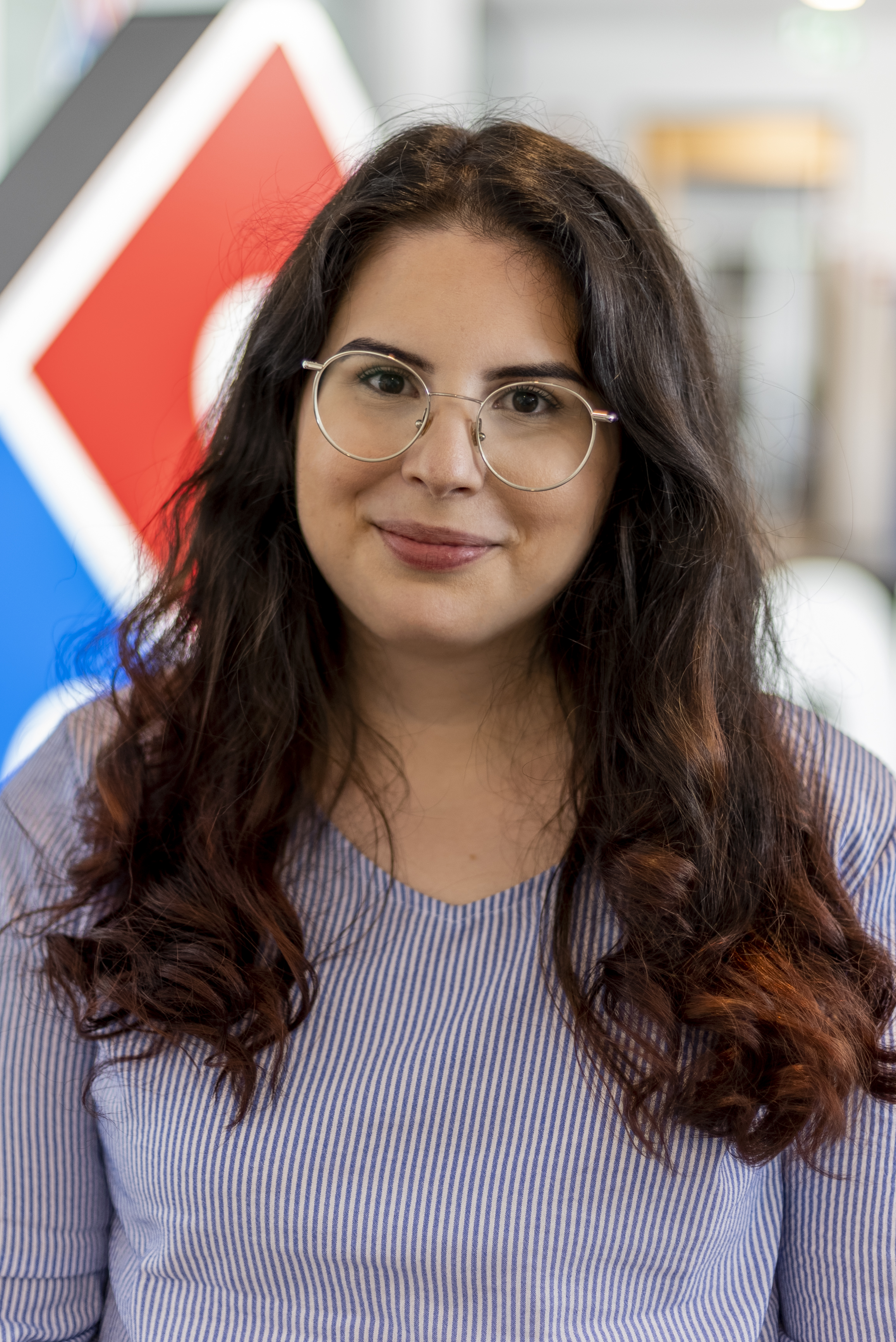 What makes working at Domino's so special for Sara?
"The dynamic and passionate work environment convinced me to choose Domino's as a long-term employer on my first day as a working student. As a young professional, I now have the opportunity to continue to grow and develop at Domino's."
If you have any questions about the selection process or open positions at headquarters, you can reach Sara at any time via Mail or via our contact form.

Now you definitely want to learn more about the Domino's corporate culture or the impressive history. But you can also go back to the home page.
We are looking forward to your application!